A High Quality Aluminum Sand Foundry
As of November 30th, 2018 Aluminum Castings Company has restructured and purchased the operating assets of Alcast Company Midwest Works LLC (formerly Falco) read the press release HERE.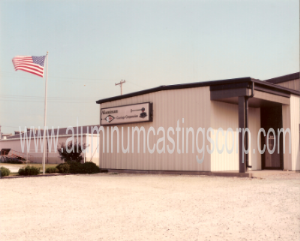 American Made Aluminum Sand Castings!
Established in 1964, the Aluminum Castings Company sand foundry of Galesburg, Illinois USA, a subsidiary of Alcast Company permanent mold aluminum casting foundry, has supplied high quality aluminum sand castings to many loyal customers. From prototypes to manufacturing thousands of pieces and small aluminum sand castings to very large castings, our customers have come to rely on our superior sand castings that can be highly cored, and delivered when promised at competitive prices!
Aluminum Castings Company LLC is a high quality American aluminum sand casting foundry, specialized in supplying both cored and uncored parts in several aluminum alloys of all sizes and volumes, including prototype casting.

Our manufacturing plants covers 25,000 square feet, in Galesburg IL USA, and 100,000 sq feet in Fairfield IA USA, which contains our Sand Molding, Core Making, Aluminum Melting & Casting, Casting Grinding & Cleaning, Value Added Services, and Inspection Departments.
Our aluminum sand foundry contains five 1000 pound and one 2000 pound capacity gas melting units. These gas fired furnaces provide a wide variety of molten aluminum alloys for our aluminum sand casting process. The certified aluminum alloys include: Almag 35(535), Tenzaloy 713, 319, 355, 356, A356, 771, and 850 series. Our in-house spectrometer ensures the integrity of the metal chemistry and allows us to provide our customers chemical certifications with their aluminum castings.
Our aluminum sand casting operation begins with exceptionally high quality sand molds in the green sand and air set or no bake processes. Our sand molding department consists of DISA automated molding, Roto-lift, squeezer, Hunter 20, Hunter 32, a Kloster air set molding machine, and other air set lines. The aluminum castings can also be highly cored using the shell sand, cold box, and oil sand core processes. Producing our sand cores in-house assures that everything going into our aluminum sand casting process is of the highest quality! Our American aluminum sand foundry also offers value added heat treatment, machining, painting/powder coating, assembly, and JIT delivery.
Aluminum Castings Company Quality Policy
Aluminum Castings Company continuously improves production processes to provide products that consistently meet or exceed customer expectations of Quality, Price, and Delivery.